My Team
I take customer service very seriously. So does my staff. Together, we are committed to providing exceptional customer service to all of our clients.
If you need to schedule an appointment or request any other service, please let us know. We will respond promptly.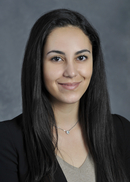 Kristina Muxo
Kristina was born and raised in Miami and attended Florida International University for fine arts. She later transferred to Miami International University to pursue her degree in fashion merchandising.
Kristina knew Northwestern Mutual was the right place for her due to the culture of the office and the possibility that you succeed based off of your own work ethic, "you are in charge of your own destiny."
In her spare time, Kristina enjoys working out and staying fit. She is also currently building a digital fashion magazine and creative team.
Alejandra Rodriguez
Associate Financial Representative
Office 305-549-8789

Alejandra moved to the United States from Colombia in 2000 and began working with Northwestern Mutual two years later, during the beginning stages of the Miami office. Her background as a business owner and B. S. in Chemical Engineering helped her develop her role from a temporary staff person to Director of Operations. She currently oversees the administration of the office, implementation of new office procedures, participates in the training and support of new Financial Representatives as well as provide support to Managing Director TJ Pacchioli.
Alejandra enjoys reading and spending time in outdoor activities with her husband Jaime. They are blessed with three smart children, Juan Sebastian, Daniel Felipe and Maria Alejandra. When they made her an empty nester in 2014, she started volunteering at the Arsht Center for the Performing Arts.